The Use Of Metal Detector Conveyors
Posted by Admin on October, 17, 2014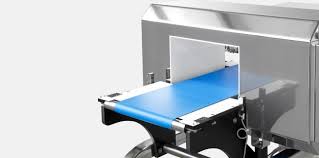 Metal Detector Conveyors are used to locate ferrous and non ferrous metals that are present in a mixed form in a product. The equipment is manufactured in variety of types to function in various different kinds of applications. Common applications where metal detector conveyors are used are; Wood chip segregation, mineral ores and metal mines. Metal Detectors are used in food industries to detect any metals in the food that may be mixed in it while manufacturing. Textile industry also uses metal detectors to detect any metals like broken needles that may have been left in the clothes while sewing.

The Basic Features of Metal Detector Conveyors are given below:-
Signal the presence of the metal- Using a Metal Detector is fairly simple. For searching a ground manually, the user has to move the search coil back and forth over the ground. If the detector is able to sense the presence of any metal beneath the ground then it releases an audible alarm which allows the user to stop and search for metal below the land.
Automated industrial metal detectors- The metal detector conveyors used in big industries do not require any operator. They are automated and work with the help of a control panel. Their speed and movement can be adjusted using the controls.
Reveal the depth of the metal- Metal Detectors can convey the depth at which the metal is present beneath the ground or in food mix or any other application. The detector generates high electric current when the depth is not much.

Metal Detector Conveyors are widely used in many industries for security and safety reasons. Mines also use these devices to locate metals in order to extract them from their ores. They are simple to use and come in variety of versions to suit different types of applications. For Details, Please visits: http://www.daselectronics.in/
This entry was posted on October, 17, 2014 at 18 : 22 pm and is filed under Metal Detector. You can follow any responses to this entry through the RSS 2.0 feed. You can leave a response from your own site.