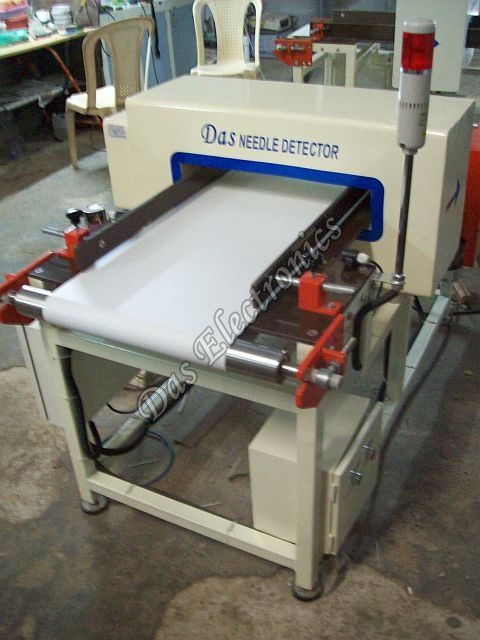 The needle detector is an extremely useful machine that is used to detect the presence of metal fragments inside stitched materials, fabric materials, textile materials, pharmaceutical products, and food products. It detects metallic fragments or needles with the help of cycled magnetic sensors.
This technology is very advanced and is also incredibly accurate. Metal needle detectors are used widely in manufacturing industries as part of the quality-control process. Modern needle detectors also come with touchscreen panels and LED indicators. Thus, they are easy to use as well. This is an indispensable machine as it will save you a lot of manpower, money and time.

Here is a list of things you need to keep in mind while you purchase a machine from needle detector manufacturers in India.
• Discriminating Ability
Discrimination is the ability of a metal detector to distinguish between one target and another. Therefore, it is a very important feature that you have to look out for. Your machine must be equipped to tell one sample of metal apart from another. Detectors can also be calibrated to respond only to certain metals.
• Sensitivity
Modern needle detectors utilise microprocessor technology and are highly sensitive. These can detect any ferrous foreign material instantly. A quality needle detector has a very high operating frequency. This allows your machine to detect even the smallest quantities of ferrous metal present in the sample.
• Calibration
Calibration prevents the emission of signals when the detector passes over a non-metallic object. Detectors can be calibrated to look for specific metals. This can be achieved with quality machines provided by quality needle detector manufacturers in India.
• Coil Shape
Metal detectors work with the help of cycled magnetic sensors. The shape and size of the coil have a significant impact on the efficiency of your needle detector. Coils can be elliptical, concentric or spider-shaped. You need to choose a needle detector that is best suited to your industrial needs.
• Conveyor Belt Detectors
Nowadays, needle detector manufacturers also make conveyor belt needle detectors. These are highly suitable for industrial use. These have a widespread application in the garment and textile industries. These detectors are highly sensitive and will greatly increase the efficiency of your manufacturing quality control processes. Additionally, these machines are very flexible and can also find applications in a large number of non-industrial environments. Conveyor belt detectors can also be programmed to contain select-or-reject operations, which can eliminate faulty products from the line itself. This kind of needle detector is also very easy to install as they come with modular construction.
• Handheld Detector
Handheld detectors have widespread amateur and professional uses. A handheld needle detector is small, portable and very useful. Their power source is a 9 Volt battery, which is cheap and can be easily replaced. As it is very easy to maintain and use, it is a very economical device and suitable for rough environments as well.
Now, you can choose the perfect needle detector for your industrial or professional needs and be assured of top-notch service.
This entry was posted on May, 01, 2019 at 16 : 00 pm and is filed under Needle Detector. You can follow any responses to this entry through the RSS 2.0 feed. You can leave a response from your own site.