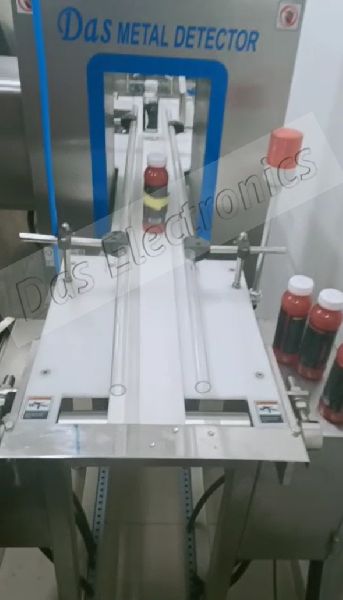 Pharmaceutical firms are currently undertaking a continual automation process aimed at boosting production volumes, improving quality, and mitigating cost constraints. Even in a well-managed, highly automated and mechanized plant, the chance of metal contamination in the product at some stage throughout the manufacturing process is very likely. That is why Pharma Metal Detectors are in so much demand nowadays.
Metal particles are frequently included in the manufacturing process together with the principal products. Regardless of when or where metal contamination occurs, one of the most important requirements of effective quality control is that no defective goods ever reach the market. Metal detection and rejection devices, which consistently detect and segregate all metal-contaminated items, especially those in aluminium foil, are now required in the production stream to avoid this from occurring.
Metal Detection's Benefits:-
The advantages of metal detection are inextricably linked to the reasons for their use in the first place. A firm can devote all of its focus to refining and producing new products by methodically utilizing the advantages of metal detection and rejection with cutting-edge technology. They won't have to worry about immaterial damages claims or the company's reputation being tarnished by negative press.
Modern metal detectors are capable of much more than just sounding an alarm when metal particles are detected. They've also become a key component of many manufacturers' performance measurement and standard operating procedures. Automated check prompting and rejection tracking, as well as the quantities of pieces, number and duration of metal-detected messages, comprehensive fault messages, the start of recording, and recognition sensitivity settings, are now linked into the performance data. The information is subsequently transferred to a central computer through an interface (supplied by the maker with the metal detector) for analysis.
Monitoring Metal Detectors:-
Metal detectors that are state-of-the-art are equipped with an autonomous monitoring system for their electronic functioning. This retains the appliance in good functioning order, but because it is impossible to duplicate a product with a bit of metal lodged in it, its product-specific detection sensitivity defies electronic inspection. As a result, a test piece is required to perform the product-specific sensitivity assessment.
Metal Detection Offers a Variety of Services:-
Metal detectors, such as Pharma Metal Detector, are frequently used in quality and safety inspections. Safety scans of products in various industries, such as paper, pharmaceuticals, plastics, tyres, fabrics, wood, and bottling, are also possible using these detectors.
Metal detectors are useful for quality management of both "dry" (non-conductive) and "wet" (conductive) foods while inspecting food products. Frozen meals, granola, and cereal are examples of non-dry foods. Wheat, meat, and dairy products are all receptive foods.
Metal detector systems can adjust for the resistivity of wet foods with favourable performance depending on the amount of product being examined and uniformity within skews.

Final Words:
The guarantee it provides of product safety, as well as the safety of the people who will get those items, is perhaps the most significant benefit of metal detecting equipment. Metal detectors operate to ensure product integrity and quality, which is one of the most critical components in the success of a product or business.