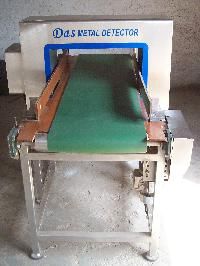 Metal detectors are used on the conveyor belts to detect the presence of any unwanted metal product. It is an electronic device that offers consistent metal detection. A few things may influence the procedure, including the size of the metal impurities, product effect, type of the metal impurities, opening size of the metal detector, etc. To convey any product, it is important to consider its size and shape so that the selection of the right metal detector can be done.
Metal Detection System
So, choosing the right kind of metal detector is very important for any conveyor belt system. There are generally two solutions for that. The first one is the tunnel detector and the second one is the surface detector. They are chosen depending upon the height of the products meant to be checked.
Tunnel detectors
If the products are greater than 50 millimeter in height, then tunnel detectors are the best choice. These types of detectors are used for various products including PE cups, PET bottles, various raw materials for locomotive tires, etc. All these products remain totally dipped in a magnetic field and the tests for the presence of metal contaminants are done. Depending on the detected metal particles, a metal free zone is created to support the functionalities of a metal detector.
Surface detectors
Surface detectors are used for the flat type of products including flat packaging, hardware, plastic foil, etc. These types of products are best performed with surface detectors under the surface for track running. This detector can detect all the metal contaminants of every size and shape on the running surface. It is quite obvious that with the increase in distance, decreases the sensitivity for detection. So, surface detectors work best for those products having a height below 50 millimeter.
Surface detectors are simpler to use than the tunnel detectors in the conveyor belt.
Applications of conveyor metal detectors
Metal detectors have a havoc use in the following areas-
Food processing unit
Dairy plants
Packaging industries
Spices manufacturing units
Meat processing
Home furnishing
Paper industries
Confectionery units
Plastic industries
Dry fruits, etc.
The manufacturers and suppliers of the conveyor metal detectors offer supreme quality materials to every of their loyal customers all over the world. They offer their products at the leading market prices. They can deliver bulk orders within the scheduled timeframe. A few important features of their metal detectors are-
Highly sensible
Can be custom-made
Consists of audio-visual indication for detecting metal contaminants
Available with multiple models
Hence, a suitable use of the perfect metal detector can obviously detect all the metal contaminants on the conveyor belt.