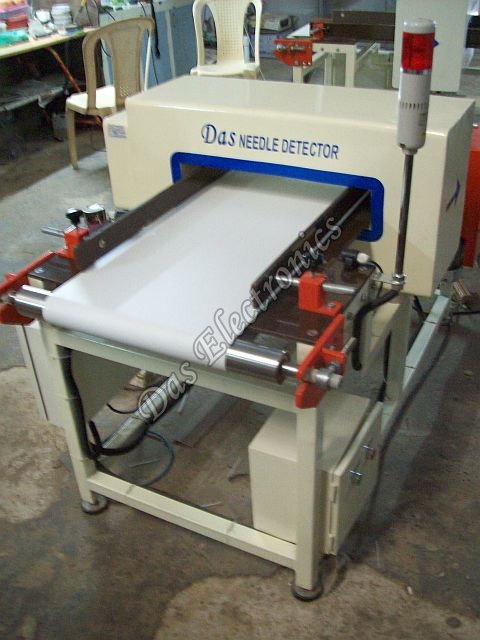 When textiles are made in any form, especially the readymade ones, the manufacturers have to take extraordinary care before shipping the products out to ensure that none of the pieces have any metal (needle) left in them. In a large scale manufacturing environment, where there are hundreds of sewing machines operating and thousands of pieces of garments or other made-ups are stitched and sent to the next process. There are possibilities of needles, whole or broken pieces being mistakenly carried along with the garments. In most such cases, the size of the needles being so small, might not get detected. You have to have a Needle Detector to identify the garment pieces with the needle(metal) impurity stuck in them and to remove the garment from the conveyor.

Machine Features and How it Works
The process used in these metal detector machines is known as the 3 coil technology. It has one transmission coil and two receiving coils. The efficiency of the machine depends on the ability of these coils to detect even the smallest piece of metal present in the garment. The coils would then send the signal to the electronic circuit which amplifies is into an audio cum visual alarm.

The machines to detect needles in the garments are built quite sturdily and have a mild steel frame on which the main unit is placed and includes the conveyor tunnel(Search head). The tunnel size has to be made to suit the particular requirement of the user. The reasons for this are simple; the size of the garment to be passed through, even in a folded condition, is critical. More critical is to design the coils to pick the needle bits at the depth or the dimensions in each case. Yet another aspect is to decide on the type of metal to be detected, steel, stainless steel or other metals. Many buyers might go in for a comprehensive all metal detecting feature.

Application
It has already been mentioned that the Needle Detectors find use mainly in the garment industry. In fact, it will be useful in every environment where stitching takes place that too on large scale. Once can think about garment making units, where dresses for men, women, children are made, home furnishings like curtains and homemade ups of different types, tapestry, cushion covers, mittens, serviettes and so on. It is therefore important for the buyers or users to determine their exact requirement and have the machine built.