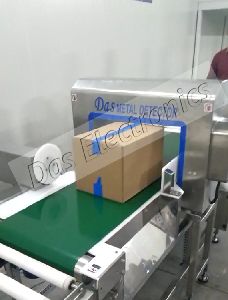 Metal detectors, as the name suggests, is an instrument that is used for detecting the presence of metal within a certain radius. This equipment was primarily designed for finding out hidden metals in ant object. Metal detector possesses a sensor that alerts by a red light or a beeping tone when brought near any metallic object.

The metal detectors for industrial use were introduced in the year 1947. Metal detectors have several applications on industrial grounds like pharmaceutical, textile, plastics, garments, mining, chemical, lumber, packaging and food and beverage. This metal screening device is also used in public places to detect weapons of any kind. These metal detectors are mostly stationary walk through.

Application in Food Industry
The food industry uses this metal detector quite importantly keeping customer protection in mind. While following the process of machinery during the process of manufacturing, chance is there that metal shards from broken old machines get contaminated with the food. This is considered a major safety issue within the food industry. Hence, the use of metal detectors for this purpose integrated into the product line.
Food metal detector might be used in each and every stages of food production, starting from eliminating any sort of metal particles present in the raw materials to the finished product. These are used in food factories of various types, such as bakery products, dairy products, fruits and vegetables, meat products, sugar and spices etc. Food companies pay extra attention to metal detection because any foul product might cause then serious damage to the brand name.

Performance of Food Metal Detectors in Food Industries
There are many companies that manufacture and distribute food metal detectors of latest technology in India. The food metal detector suppliers offers this screening device with conventional methods of observing the X-rays of the product which helps in elimination of contamination of any kind from the food. These companies also claim of providing accurate information about the food that includes damaged packaging or any missing pieces from the product line.
The companies offer these food metal detectors at a highly competitive rate but with a quality performance. These screening machines detect the food particles minutely and after that provides a report for the same, which helps in procuring a printed document of the food substances. Companies of food metal detector Mumbai are quite famous and highly demanded for the highly efficient product they supply.
As a whole, these machines are ensured with delivering an accurate and good functionality regarding the specifications of food safety measures. They also provide flexibility of customization of the product according to the requirement of the customers. For example, the models might differ for the seafood, spices, dairy products and confectionery industry.
The food metal detectors are manufactured user-friendly so that the workers do not face trouble in running the machine. These machines are quite long lasting in nature and perform efficiently and economically in a production line.

Conclusion
The food metal detectors are also applied for taking care of the various types of machinery. These detecting machines themselves also calls for proper maintenance without which it might result in expensive repairs. The downtime required while repairing might affect the revenue of the food company.
This entry was posted on July, 09, 2021 at 22 : 14 pm and is filed under Metal Detector. You can follow any responses to this entry through the RSS 2.0 feed. You can leave a response from your own site.