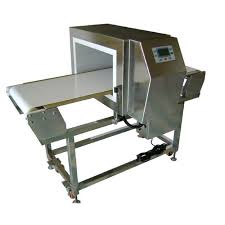 The metal detectors are used in many fields like Food industries, Pharma, Garments, Mines, Paper industries, etc. The most common use of metal detectors is to detect metal contamination in products and prevention equipments from tramp metal. The metal detectors comprise of an oscillator and a coil. The oscillator produces an alternating current which passes through the coil. This current creates an alternating magnetic field. Whenever a metal that is electronically conductive comes closer to the detector, a change in magnetic field is caused. The operator is then able to find the location of the metal.
The development of metal detector needs proficiency and the art of balance. Different metal detectors are specifically designed for particular purpose. The general purpose detectors cannot be used for checking. However, some all purpose metal detectors are designed which can be used any application. However, their proficiency is not much. The metal detectors are based on different technologies, performance characteristics and options. Their roles are different as per the technologies used.
Some Types Of Metal Detectors Are Mentioned Below:
Industrial metal detectors: The industrial metal detectors are used in several industries for significant commercial purposes.
Gold hunting detectors: These metal detectors are extremely sensitive to small traces of gold. They use a specific higher gain in circuitry and are very efficient in detecting even small amounts of gold.
General purpose metal detectors: These general purpose metal detectors are used for general purpose like detecting coin.
Metal detectors for security checking: Security checking is among the popular applications of metal detectors.
Underwater or Salt Beach detectors
Detectors for cache haunting or deep searching
Metal Detector are a part of the detector radar family as the radar system is used in their systems. Car radar system, cordless radar system and weather radar system are the other members of the detector radar family. Handheld metal detectors are one of the most commonly used products based on the Radar System. These can be used to detect even land mines. However, ground penetrating radars are used with the metal detectors for really deeply penetrated metals. The metal detectors are very useful and their uses in different fields make them a boon to the modern society.
This entry was posted on May, 08, 2012 at 14 : 46 pm and is filed under Metal Detector. You can follow any responses to this entry through the RSS 2.0 feed. You can leave a response from your own site.