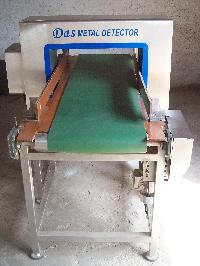 Personnel use metal detectors to search for the presence of metals nearby. A metal detector is an electronic instrument, which is used to find metal inclusions into any object. If metals remain hidden underground, metal detectors can find it out easily and in the quickest time. They consist of a sensor probe that can be dragged by the personnel on the particular searching spot. After coming close with any piece of metal, the sensor indicates a particular tone in the earphones. Actually, this device indicates a measure of the distance of the metal. The closer it comes with the metal, the tone becomes higher.
Applications of metal detectors
Metal detectors are used in various industries like plastics, food, pharmaceutical, etc. They are also used to protect various tools, automats, mills, etc. using the technique of automated manufacturing. Today, metal detectors are vastly used in the process of quality control.
1. Food processing
In the food industry, metal detectors are used hugely. There are certain legal restrictions and requirements of quality standards like ISO, IFS, HACCP, and FDA are in the markets, which are important for quality check issues in this industry. Using M-Pulse electronics, security becomes higher with the logging and cross-linking processes. These metal detectors are prepared with stainless steel.
2. Plastic processing
Ferrous and non-ferrous contaminants can hamper the manufacturing of plastic process line. The metal detector is able to detect them and then the manufacturers can separate them before further processing of the material. This finally improves the quality of the product.
3. Pharmaceutical processing
Medicine industry is the most important part of the society. Any impurities in the manufacturing can harm human lives. So the metal detectors play an important role in manufacturing the pills and tablets. Under strict monitoring, metal contamination is firmly avoidedto meet the hygienic requirements. The metal detectors used are easy to clean after every use.
The manufacturers of metal detectors understand the huge importance of its use for the safety and security of the society. They use the latest technologies (cutting-edge technology) and superior quality raw materials for manufacturing them. Manufacturers need to design the metal detectors according to the market demand, so they hire the best team of expert designers and quality specialists to check the final products. They help them to produce automatically balanced metal detectors with the qualities of adjustable sensitivity and long functional life.
Hence, metal detectors help various industries to find their goal of safety and hygiene, which are widely appreciated by all the suppliers and consumers.