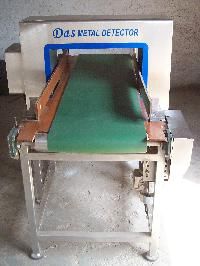 A metal detector is a machine that runs electronically and helps in detecting the persistence of metals. It has an inbuilt sensor that starts beeping on detection of a metal. These devices are available in a wide range of sizes, features, and specifications, to meet the variegated requirements of the market-
• Handheld metal detectors.
• Walk-through metal detector
• Conveyor metal detector
Out of them, the conveyor metal detectors are one of the most sought-after devices in the market. This machine has a wide belt that moves from one end, passes through the machine to detect metal, and reaches at the other end. The machine has x-rays and software installed in it that can easily detect metal in no time. The process is completely automated and runs in an uninterrupted manner. The conveyor metal detector is installed in various public places where there is a heavy footfall of the public, to check their luggage and for the basic safety of the people. It is installed at the airports, railway stations, malls, fairs and exhibitions, movie theatres, and much more.
The conveyor metal detector helps in detecting deadly weapons, arms, knives, bombs, guns, land mines and helps in general safety and security of the masses. In the food industry, the conveyor metal detector helps in detecting the presence of a metal or foreign particle in the food. In the construction industry, it is used to check steel reinforcing bars buried under walls and floorings.
OTHER USES
• They are used at archaeology sites to detect vintage coins, precious metals like gold, silver and copper.
• They are also used to detect historical artifacts like sculptures, idols, etc.
• They are installed in various industries like beverage, chemical, mining, textile, garment, paper, cement, and much more.
The business units engaged in offering the conveyor metal detectors should take into account the following aspects-
They should use the utmost authentic grade materials and progressive techniques, in adherence to the standards and norms defined by the industry for manufacturing it.
This equipment should be thoroughly examined on the basis of various quality parameters, to ensure its flawlessness.
They must ensure that their offered product is endowed with the features like durability, perfect finish, dimensional accuracy, smooth functioning, faultless performance, hassle-free operations, high-sensitivity, resistance to wear & tear, and long-lasting life.
The offered device should be competent to handle heavy, light, small, and large material.
They should offer it in various sizes and dimensions, to gratify the divergent requirements of the industry.
They should be able to customize the product on the basis of the specifications laid down by a client
Hence, we can conclude that the conveyor metal detectors play a highly important role in determining the authenticity of a product in which the persistence of a metallic substance is highly undesirable.