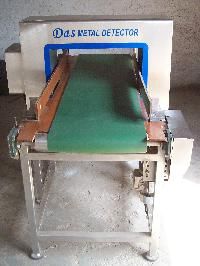 Metal detectors are used to check the presence of metal in a substance or around the surroundings. These are electronic devices and are a major part of any safety and security regime, these instruments are designed keeping in mind to detect metals and other harmful elements hidden nearby. Generally, metal detectors are used in hospitals, airports, railway and bus stations, prisons, schools, malls, cinema theatres, and many other places of public gathering to screen people and forbid them from carrying deadly weapons. There are fixed and portable metal detectors, both of the detectors work on different technologies like Pulse Induction Technology and Beat Frequency Oscillation technology respectively
Applications of metal detectors other than for screening people are as follows:
For searching lost goods, as when somebody loses his/her valuable items like coins, piece of jewelry, etc., they can easily find it with the help of metal detectors and can save themselves a good amount of time and money
Archaeologist uses metal detectors to search for the presence of Antiquities in a particular area.
Similarly, metal detectors are used in the food industry to check the presence of any broken machine parts or metals in the food before packaging
Metal detectors are quite useful in geological detection also, like for detecting the metallic composition of soil, nearby mines, etc.
Attributes of a good quality metal detector are as follows-
Auto response system
Stable performance
Enables low maintenance
Robust designs
Easy to install and operate
Accurate detection
Efficient functioning
Superior Performance
Durable
Long working life
There are a number of metal detector manufacturers and suppliers in the market, who should take into account the following important aspects in order to become a market leader-
The supplier should always procure their products from the leading manufacturers in the industry, who make use of the top-notch grade components and technologically advanced machines for the production
Similarly, the manufacturer should make use of 100 % genuine and authentic parts in order to create a reliable product
The manufacturer should be backed by a team of dexterous professionals, who are highly proficient in engineering a matchless product quality
They should be capable of delivering them in bulk quantities on a timely basis
These manufacturers and suppliers should ensure that the offered metal detectors are in perfect working conditions without any defects or faults and have a long shelf life
They should be backed by a team of adroit professionals, which sincerely adheres to the standards and norms laid down by the industry
They should offer them at the reasonable rates in order to ensure a wide client base
Thus, we can conclude that the precisely engineered metal detectors are highly embraced by the market.