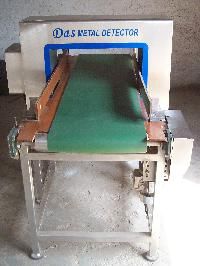 Conveyor Belts play a pivotal role in many industries for the material handling applications. These are widely used for transporting different kinds of materials from one point to another in a balanced manner and at a controlled speed. But the incorporation of the feature of metal detection to it is like icing on the cake. A conveyor belt equipped with metal detection capabilities is highly sensitive to the persistence of ferrous and non-ferrous metals in the products flowing over them. These conveyors provide both audio and visual indication if a metal is successfully detected. These are equipped with numerous advanced control features, which lead to a highly precise outcome.
Industries that incorporate the conveyor metal detectors
• Food processing
• Chemical
• Packaging
• Cement
• Rubber
• Plastic
• Furnishing
• Garments
• Pharmaceutical
• Paper
• Cosmetic
The above-mentioned industries take the imperative measures if a metal is detected in the products manufactured by them. Thus, it can be widely used for determining the quality of the products being produced and dispatched by a unit. These devices play a highly crucial role in the areas requiring high-security like airports, hotels, hospitals, malls, cinemas, and much more. These machines are available in the market in a wide range of sizes, features, and specifications, to suffice the variegated requirements of the industry.
The business units engaged in offering the conveyor metal detectors should take into account the following aspects-
1)They should use the utmost authentic grade materials and progressive techniques, in adherence to the standards and norms defined by the industry for manufacturing it.
2) This equipment should be thoroughly examined on the basis of various quality parameters, to ensure its flawlessness.
3) They must ensure that their offered product is endowed with the features like durability, perfect finish, dimensional accuracy, smooth functioning, faultless performance, hassle-free operations, high-sensitivity, resistance to wear & tear, and long-lasting life.
4) The offered device should be competent to handle heavy, light, small, and large material.
5) They should offer it in various sizes and dimensions, to gratify the divergent requirements of the industry.
6) The manufacturers should be backed by a team of highly skilled professionals for manufacturing and marketing this product.
7) They should be able to customise the product on the basis of the specifications laid down by a client
Hence, we can conclude that the conveyor metal detectors play a highly important role in determining the authenticity of a product in which the persistence of a ferrous substance is highly undesirable.